Having your own online store can be a very lucrative and rewarding business if you have a product or products that you are passionate about selling online. Selling products through an online store is also known as e commerce. Why pay someone else to set up your new online store when this can easily be achieved by diy in a few easy steps without any technical skills. We will take you through the entire process of opening an online store easy step-by step and ensure your up and running within a couple of hours with wholesale suppliers in hand ready to accept online payments.
First and foremost it is important that that you first select and secure a name for your online store and its availability, also known as .com or domain name. There are several online companies that easily allow you to check the availability of a domain name free of charge. One you decide on a domain name, secure and purchase it, ownership will cost between 2-10 dollars for the entire year and each year following to maintain that domain name. You can also search and select more than one domain name for your new online store and have unlimited domain names pointing to your store when you diy. Lots of company's pay big money to have this service provided to them and it is just as easy to do it yourself and maintain to bypass fees and also to develop sense of ownership for your new online business.
It is important to remember when securing your store domain name that you will not need to purchase hosting. Hosting will be included with your online ecommerce platform. I have outlined a list of popular domain service providers to get you started to select, secure and purchase a name for your new online store. At this point all you have to is purchase the name (s) you are going to use for your new online store.  There are no technical skills involved. Once you are able to establish that we can move onto the next step.  
Now that that you have selected a .com domain name for your online store, it is time to select an ecommerce platform to open your new online store. Your ecommerce platform will be your host and also act as second hand in getting your online store set up. An ecommerce platform is where you will select your website template, design, colors, logo, enter your products, product descriptions, product prices, product photos, product updates, shipping cost, domain name and enter your online merchant account information to accept payments, which we will cover in the segment.
An ecommerce platform requires just basic skills none of which are technical. The Ecommerce platforms I have outline below will walk you through all the diy steps through a step-by-step wizard explaining of all the tasks via a checklist you need to complete to open your online store, such as adding products and etc.  Most offer a free month trial without a credit card to for you to get acquainted with it for at least 30 days or you can always switch online platforms, but I would recommend waiting at least a month before doing so.
After you select your ecommerce platform for your new diy online store you will need to determine which online merchants your ecommerce platform provider works with to be able to accept online payments from your customers, its best to work with more than one. We will cover the how to's of opening an online merchant accounts for your online store in the following segment.
Upon accessing your online ecommerce platform, you should be aware of the online merchants your platform of choice works with in order to accept and receive payments online. Its generally a simple application. First you will need a bank account to transfer money in and out from. It doesn't have to be a business account when starting out. You can simply use your personal account, but will need your routing number and account number handy to complete your online merchant application for verification to send, receive, transfer or refund payments online from your customer store purchases. Without a bank account you not be able to accept credit cards for any online purchases via your store and will only be limited to accept checks or money orders from your online customers.

Accept Credit Cards Today With Amazon Payments
*Most online merchants accept prepaid credit cards as a banking account form because they come furnished with a routing number and account number, if for some reason you have been declined a bank account.
Once you have been approved from your online merchant account, your online merchant will provide you with code to implement into your ecommerce platform to start accepting payments. Also remember to make note of the code should you decide to implement in other sites simultaneously. Payments generally take 24-48 hours to clear into your account. It is best practice not to process orders from your online store until your customer's payment has cleared.
Lets assume you are looking to expand your inventory for your online store and in need of marginal products or looking for something fresh to sell compliment your current online store inventory. There are many wholesale suppliers out there as well as many drop shippers looking to work with online merchants such as yourself.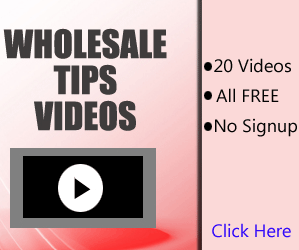 Video Sponsored By Worldwide Brands 
The difference between a wholesale supplier and a drop shipper is a wholesale supplier will deliver products to you sold at a lesser price, but require you to purchase in bulk and maintain a physical inventory for your online store, which would require you to be responsible for shipping those items to your customers. A wholesale drop shipper on the other hand generally has relationships with several companies and allows you to use their product pictures and descriptions to sell their products without maintaining a physical inventory and they ship the ordered products to your customer under your name or business. Some drop shippers charge a monthly, annual or flat rate fee to work with. It is important when working with drop shippers that you consider there shipping costs before setting shipping prices on your products as they may use other shipping alternatives then you may be currently using.